"Studio 2V" has started the shooting period for the series "The price of a mistake"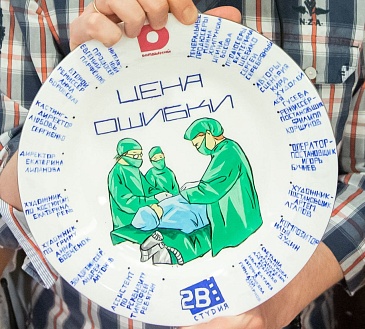 On May 11, 2021, "Studio 2V" has started the production of a 4-episode melodrama "The price of a mistake", commissioned by Domashny TV channel.
The shooting process is taking place in St. Petersburg.
General Producers:
Marina Khripunova, Irina Bosova
Producers:
Ekaterina Shveiko, Sergey Serebryany
Executive Producer:
Evgeny Parfyonov
Scriptwriters:
Kira Khudolei, Asya Guseva
Film director:
Philip Korshunov
Director of photography
: Igor Buchnev
Composer:
Ilya Zudin
Production Designer:
Artem Agapov
Costume Designer:
Ekaterina Rel
Makeup artist:
Anna Bobchenok
Cast:
Svetlana Smirnova-Martsinkevich, Ivan Batarev, Aleksandr Kudrenko, Gennady Smirnov, Evgeniya Lykova, Denis Portnov, Andrey Zaitsev, Sergey Bondarchuk, Roman Perelygin, Anastasia Chernova, Yulia Zorkina, Yuri Evdokimov, Glafira Kozogov Evgeny Kuzmin, Elena Kolodko, Dmitry Orlov, Polina Teplyakova, Alena Kallistova, Artem Anchukov
Olga is an outstanding pediatric neurosurgeon. Strange things start happening in her life. It seems like the fate had turned against her: she finds out about her husband's betrayal with a young housekeeper and the pregnancy of this woman; at work Olga is accused of bribery, her reputation is crumbling... The only person who supports Olga is Nikolai, who redecorates her apartment. He behaves like a real man. Olga falls in love with him... But, as it turns out, Nikolai came into Olga's life not by chance. All the events that take place in Olga's life are the result of his revenge plan...