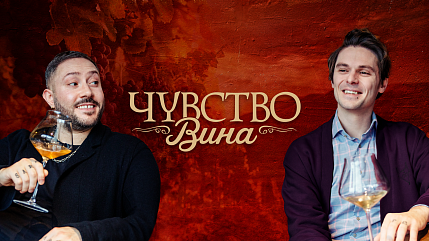 Watch the premiere of "The Sense of Wine" in the IVI online cinema starting 01.01.2022
"The Sense of Wine" is an exciting journey of two friends, sommelier Evgeny Shamov and Italian chef Antonio Freza, through the south of Russia.
"The Sense of Wine" tells us the story of the new Russian winemaking. Sommelier Yevgeny Shamov is trying to figure out what is going on in this area. Together with Antonio and winemakers, he tastes and describes expensive, cheap and "craft" wines from all sorts of varieties which are grown in the Kuban and Rostov region.
In each episode the sommelier and chef taste regional dishes and explore the three wineries. Their task is to arrange a dinner, where Antonio will prepare a new interpretation of the local specialty - "a la Freza", and Zhenya will select the most suitable wine for this dish.
In the first season (4 episodes), the hosts will visit the following wineries: Dacha Serdyuka, Vederninkov, Arpachino, Lefkadia, Ozhina, Gunko Winery, Golubitskoe, Fanagoria, Yanis Karakesidi winery , "Abrau Durso", "Chateau Pino", "Markoth Estate".
And they will prove that wine is not just a drink.